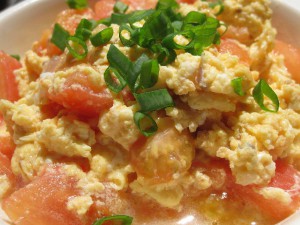 Tomato Egg Stir Fry Recipe (西红柿炒鸡蛋)
by Gengqin Xu
If you are looking for quick and easy Chinese food recipes to make at home, this Tomato Egg Stir Fry recipe is one of the easiest stir fry recipes in Chinese cooking. This Chinese stir fry recipe can also be used as a simple "practice dish" for those new to Chinese cooking, because all of the ingredients are incredibly common and inexpensive.
Difficulty: 1/5
Tomato Egg Recipe
Ingredients:
– 2 beaten eggs
– 2 fresh tomatoes, cut into thin wedges
– 2 tablespoons oil
– 1 tablespoon soy sauce
– 1 teaspoon salt
– 1 teaspoon sugar
– Chopped scallions to garnish (optional)
Directions:
Beat 2 eggs. Heat 1 tablespoon of oil in a wok until it smokes slightly and add the eggs. Spread and stir-fry the eggs until they form small clumps. Gently break the lumps into smaller pieces. As soon as the eggs are cooked, dish out and set aside. Heat up the wok again with another tablespoon of cooking oil. Add the tomato wedges into the wok and stir-fry until the tomatoes become soft. Transfer the eggs into the tomatoes, add the soy sauce, salt, sugar and scallions, stir-fry for about 30 seconds, and serve.