Ingredients:
1 pound pork tenderloin, cut into bite-size chunks
1 tablespoon rice wine
1 tablespoon soy sauce
1 beaten egg white
2 teaspoons flour
Cooking oil
Any or all of the following, cut into pieces: bell pepper, onion, pineapple
2 tablespoons ketchup
Preparation:
Marinate the pork in the wine and soy sauce for 20 minutes. In a bowl, mix the egg white and flour with a little bit of oil and water to make a thick batter. Dip the pork in and coat it well with the batter. In a separate bowl, mix the ketchup with some water to dilute it slightly. In a wok, add enough oil for deep-frying and heat it until it smokes slightly. Add the pork and deep-fry until light golden brown. Remove and drain off excess oil on paper towels. Discard the oil from the wok and heat it up again with 1 tablespoon oil. Add the bell peppers, onion, and/or pineapple and stir-fry until the aroma comes out. Add the pork and ketchup sauce and stir-fry for another minute or two. Adjust the taste if desired, and serve.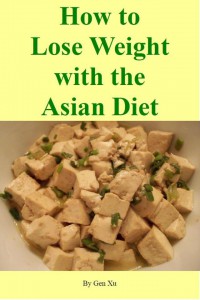 You can find more great recipes in my ebook, How to Lose Weight with the Asian Diet.