Sweet and Sour Pork recipe
Ingredients:
1 pound pork tenderloin, cut into bite-size chunks
1 tablespoon rice wine
1 tablespoon soy sauce
1 beaten egg white
2 teaspoons flour
Cooking oil
Any or all of the following, cut into pieces: bell pepper, onion, pineapple
2 tablespoons ketchup
Preparation:
Marinate the pork in the wine and soy sauce for 20 minutes. In a bowl, mix the egg white and flour with a little bit of oil and water to make a thick batter. Dip the pork in and coat it well with the batter. In a separate bowl, mix the ketchup with some water to dilute it slightly. In a wok, add enough oil for deep-frying and heat it until it smokes slightly. Add the pork and deep-fry until light golden brown. Remove and drain off excess oil on paper towels. Discard the oil from the wok and heat it up again with 1 tablespoon oil. Add the bell peppers, onion, and/or pineapple and stir-fry until the aroma comes out. Add the pork and ketchup sauce and stir-fry for another minute or two. Adjust the taste if desired, and serve.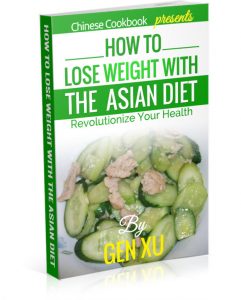 Want to get more delicious Asian recipes to help you lose weight, look and feel younger, improve your health and much more? You can find them by downloading my ebook, How to Lose Weight with the Asian Diet. Over 50,000 people have done it!
Spread the love!
Get More Recipes Like Sweet and Sour Pork Recipe: