Moo Goo Gai Pan (蘑菇鸡片, literally: "Mushroom Chicken") is one of the most popular chicken dishes in southern China. Among all chicken stir fry recipes (and easy Chinese recipes in general), moo goo gai pan definitely ranks among the top of the list of "easy healthy recipes." For this Chinese stir fry recipe, the chicken and mushrooms are not optional, but all the other vegetables are. However, the total amount of vegetables (including mushrooms) you use should not exceed the amount of chicken you use. The only difficult part about this stir fry recipe is making it so the vegetables all become fully cooked at the same time without overcooking anything. If unsure, cook them separately and mix them together at the end. If you are in need of easy chicken recipes for dinner, definitely give this a try. After learning how to make it successfully, I think you will agree it is one of the most simple recipes in Chinese cooking.
Ingredients:
1 chicken breast, cut into thin slices
1 cup fresh mushrooms, sliced
Any of the following vegetables, peeled and sliced (the total amount of vegetables you use, including mushrooms, should not exceed the amount of chicken you have): bamboo shoots, broccoli, carrots, snow peas, water chestnuts
2 tablespoons vegetable oil
1 tablespoon soy sauce
1 tablespoon rice wine
Preparation:
In a large wok, heat one tablespoon of vegetable oil and add the vegetables in the following order: carrots, broccoli, water chestnuts, bamboo shoots, mushrooms, snow peas, and stir-fry until they are almost fully cooked. Remove from the wok, and set aside. Heat the remaining oil in the wok and add the chicken. Stir-fry until it is no longer pink. Add the soy sauce and rice wine. Bring to a boil and let boil for about 1 minute, add the vegetables back to the wok, stir-fry for another minute, remove from heat and serve.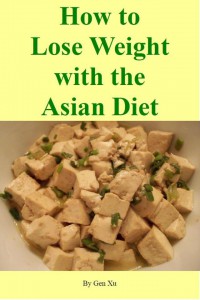 You can find more great recipes like Moo Goo Gai Pan in my ebook, How to Lose Weight with the Asian Diet.