Among easy lamb recipes, Lamb with Scallions (葱爆羊肉) is a popular lamb stir fry dish in northern China, where the climate is cold. This is because lamb dishes are known to have heating properties that warm up the body. For this reason, cooking lamb with scallions is perfect on cold winter days. This dish is also low in calories, and is good to eat if you are trying to lose weight. Using the lamb marinade is important to having the dish turn out well.
Lamb with Scallions Recipe:
Ingredients:
1 pound lamb shank, thinly sliced against the grain
2 tablespoons Shaoxing wine/rice wine
2 tablespoons soy sauce
3 stalk scallions (green onions/spring onions), peeled and cut into 1-inch lengths
1 1/2 tablespoons vegetable oil
2 garlic cloves, peeled and finely chopped
Salt to taste
Preparation:
Combine the lamb, wine, and 1 tablespoon soy sauce and marinate for 20 minutes. Heat up a wok and add the oil. When the oil starts to smoke slightly, add the garlic and stir-fry until you smell its aroma, then add the lamb. Stir-fry until it loses its pinkness, then add the scallions and 1 tablespoon soy sauce. Stir-fry until everything is fully cooked, add salt to taste, and serve with rice.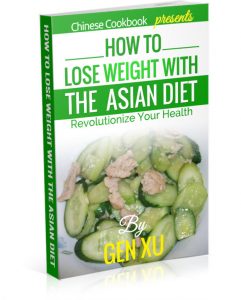 Want to get more recipes to help you lose weight, look and feel younger, improve your health and much more? You can find them by downloading my ebook, How to Lose Weight with the Asian Diet. Over 50,000 people have done it!
Spread the love!
Get More Recipes Like Lamb with Scallion Recipe: