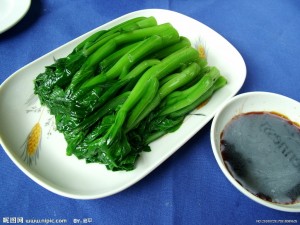 Ingredients:
-Chinese vegetables (such as choy sum)
-Oyster sauce
-A few drops cooking oil
Method:
Bring a pot of water to boil. Add a few drops of cooking oil. Put vegetables in and swirl around slowly until they turn slightly soft (but still remain crisp). Take out and drain off excess water. Lay out the vegetables on a plate. Pour oyster sauce directly on top, or serve it in a small dish separately.