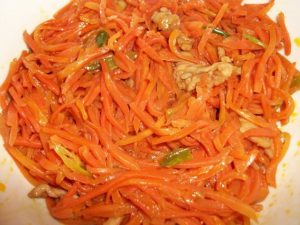 Carrots are a wonderful health food. Being low in calories and rich in vitamins and antioxidants means that it is something you should be eating often. Cooking carrots thoroughly will give you access to all of its nutrients and benefits. The Asian version of cooked carrots uses a traditional stir-fry to cook them to perfection.
Remember that carrots are naturally sweet-flavored, so adding sugar to the dish will ruin the recipe. Instead, use salt and soy sauce to give the dish a salty flair that perfectly complements carrot's naturally sweet flavor.
Chinese Chicken Carrot Stir-Fry Recipe
Note: This recipe can use either chicken or pork as an ingredient. For a vegan version, just leave out the meat.
Ingredients:
– 4 ounces chicken breast meat, cut into thin slices
– 1 carrot, peeled and cut into strips
– 2 tablespoons vegetable oil
– 1 tablespoon dry sherry/white wine
– 1 tablespoon soy sauce
Directions:
In a large bowl, combine the chicken, wine and soy sauce, and set aside for 15 minutes. Heat 1 tablespoon oil in a wok or skillet until it smokes slightly. Add the chicken, then stir-fry for about 30 seconds or until it becomes light golden brown. Dish out and heat up the wok again with the remaining oil. Add the carrots, and stir-fry until it starts to become soft. This may take a few minutes, so be patient. If your pan comes with a lid, you can try covering it to simmer, but don't do this for more than 20 seconds or you risk burning the carrots on the bottom (You can try uncovering and doing a few quick stirs every 20 seconds or so). Add back the chicken, stir for another 30 seconds, and serve.
You can find more easy and healthy recipes for weight loss in my ebook, How to Lose Weight with the Asian Diet.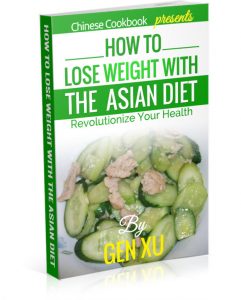 Get Other Recipes Like Healthy Cooked Carrot Stir-Fry Recipe:
Chinese Chicken and Broccoli Stir Fry Recipe