If you think that broccoli tastes best in a Chinese food recipe, then this Chinese chicken and broccoli stir-fry recipe is for you. Broccoli is high in dietary fiber, vitamins and minerals (especially vitamin C and vitamin K), and even has properties that prevent cancer. It is one of the best health foods out there, not just for weight loss.
Ingredients:
– 4 ounces chicken breast meat, cut into thin slices
– 1 broccoli, cut into florets
– 2 tablespoons cooking oil
– 2 tablespoons soy sauce
– 1 tablespoon dry sherry/dry white wine
Directions:
In a large bowl, combine the chicken with the wine and 1 tablespoon soy sauce, and set aside for 15 minutes. Heat 1 tablespoon of oil in a wok or skillet until it smokes slightly. Add the chicken, and stir-fry until it turns light golden brown. Transfer to a plate, and heat up the wok again with the remaining oil. Add the broccoli, and stir-fry until it starts to become soft. Add back the chicken, add 1 tablespoon soy sauce, stir for another 30 seconds, and serve.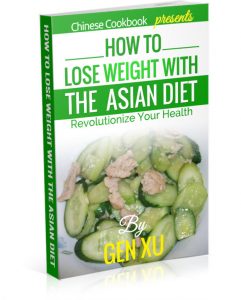 Want to get more recipes to help you lose weight, look and feel younger, improve your health and much more? You can find them by downloading my ebook, How to Lose Weight with the Asian Diet. Over 50,000 people have done it!
Spread the love!
Get More Recipes Like Healthy Chicken Celery Stir-Fry Recipe: