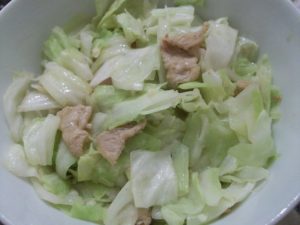 Chicken and cabbage are an amazing combination: two healthy foods come together to form a delectable dish that makes your taste buds tingle with delight! The health benefits of cabbage in helping weight loss have long been known. In Asian food, both chicken and cabbage are considered to be "balanced" foods, so you can't really go wrong with either one. This Asian version of the classic chicken cabbage stir fry recipe is a balanced mix that is both mild and exciting at the same time.
Healthy Chicken Cabbage Stir Fry Recipe
Note: This recipe uses chicken as an ingredient. For a vegan version, just leave out the meat.
Ingredients:
– 4 ounces chicken, cut into thin slices
– 5 cabbage leaves, cut into 1-inch squares
– 2 tablespoons vegetable oil
– 1 tablespoon dry sherry/white wine
– 2 tablespoons soy sauce
– Salt to taste
Directions:
In a bowl, combine the chicken with wine and 1 tablespoon soy sauce, and marinate for 15 minutes. Heat up a pan with 1 tablespoon oil until you see it slightly smoking, then add the chicken. Stir-fry until it is no longer pink (about 30 seconds), then transfer it to a separate dish. Heat up the pan with another tablespoon of oil until slightly smoking, then add the cabbage. Stir-fry for about a minute, then add back the chicken and 1 tablespoon soy sauce, and continue to stir-fry until both the chicken and cabbage become fully cooked (about a minute). Add salt to taste, and serve hot.
Want to get more recipes to help you lose weight, look and feel younger, improve your health and much more? You can find them in my ebook, How to Lose Weight with the Asian Diet.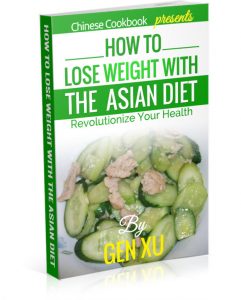 Get Other Recipes Like Healthy Chicken Cabbage Stir Fry Recipe:
Chinese Chicken and Broccoli Stir Fry Recipe