Hi There,
Are you feeling frustrated because you can't seem to lose weight and keep it off?
Are you tired of all the fad diets and other weight loss products out there, seemingly popping out of nowhere, that are overly restrictive, promote weird eating rules, or trying to sell you the "miracle solution?"
Do you sometimes feel lost, feeling like you're swimming in a sea of dietary information with no idea who to believe, in need of a little guidance?
Then It's Time To Learn About The Asian Diet!
Losing weight might seem like a hard thing to do, but the truth is that people in Asia have already figured out the key to easy weight loss many centuries ago. If you've ever visited an Asian country, you may have noticed that the people there are rarely overweight.
If you're still having trouble losing weight, then it's time to take a lesson from Asia, because losing weight is actually a very simple matter. It all depends on what you eat and how you eat it – and Asian people are experts when it comes to healthy eating.
I've helped many people reach their weight loss goals by showing them the Asian Diet. In addition, they've also able to stay in very good health due to the Asian Diet.
My Personal Experience With The Asian Diet
I consider myself lucky to have grown up with Asian parents who closely follow the Asian Diet. We have never had weight problems, stay in perfectly good health (we haven't had to go see a doctor in over 20 years, except for physical checkups), and we all look 5-10 years younger than our actual age. One time when I was 24, I was stopped on my way to the Asian health food store by a very nice police officer because he thought that I was skipping high school!
In contrast, I have many friends and family members who adopted a more "American" way of eating, with disastrous results. Some of them grew to over twice their original weight!
After I encouraged them to go on the Asian Diet, they have been better able to keep their weight under control. After they tried the Asian Diet and saw its incredible results, many of them begged me to write a book about it and share it with the rest of the world. So I did, and now it's here.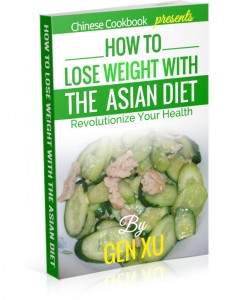 My ebook, How to Lose Weight with the Asian Diet, will open your eyes to a new way of eating, dieting, and living. It is a simple yet complete guide that will show you that, contrary to popular belief, losing weight and eating delicious food are NOT mutually exclusive.
Here's a look at what's inside:
An explanation of what the Asian diet is, why it works and how you can use it to meet your weight loss goals
A personal challenge from me that will motivate you to achieve weight loss success
A simple course on cooking Asian meals that will have you cooking almost immediately, even if you've never cooked before in your life
Simple, healthy and delicious Asian diet recipes that will have you cooking them over and over again
Large, full-color photographs of all dishes made with my recipes
And more!
All of the ingredients I list in my recipes can easily be found at your local grocery store, supermarket, Asian food store or health food store.
Imagine…
FINALLY reaching your target weight and maintaining it
Being in much better health because of your weight loss
Being able to fit into those clothes you always wanted to wear, and being the envy of all your friends
Waking up every day with the energy and confidence to take on the world
Here's What My Readers Have Said…
"The Asian Diet is absolutely amazing. I was a little hesitant to try it at first, but after I made the first recipe I was hooked. It was so delicious (and healthy too)! It took only a few days before I started to notice myself becoming thinner, and I just wanted to say thank you for finally showing me a diet that works!"*
-Jane H, New York City, NY
"It worked! I started seeing results in just a few days and couldn't believe how easy it was. I've already achieved my weight loss goal, but I'm going to stay on this diet just because it's so good. Thank you for writing this ebook!"*
-Olivia S, Helena, Montana
"After trying the Asian Diet, I am convinced that it is the best diet on the planet. Motivation was always a big problem for me – I've tried many other diets but could never stay on them for long. But your recipes were so delicious that I couldn't stop making them. I've seen great results, and losing weight is now fun for me!"*
-Emma K, Toronto, Canada
Some common questions that I get:
Q: Are your recipes difficult to make?
A: Not at all! Most of my dishes take less than 30 minutes to prepare, so you can cook them even if you have a busy life and schedule. You will have no problem making them on busy weekday nights.
Q: How much will it cost me to cook a typical Asian meal?
A: On average, a typical meal will cost between $3-$7. That's MUCH less than eating out, so in addition to losing weight you will also be able to save a lot of money on food.
Let me ask you a question. What is a healthy and fit body worth to you? How about looking and feeling younger than your age, or living a longer, healthier life? My opinion is that these things are PRICELESS. How much money will you save by not having to see a doctor as often? I feel confident that the information I have to share in this ebook is valuable. Nowhere else on the internet will you find this kind of information. Some people have suggested that I sell it for $97, but I'm not going to do that. Instead, it's going to be available for only $39.99 $29.95.
365-Day 100% Money Back Guarantee
You have a full year to ask for a refund. This is because Asian people strongly believe that the seasons play an important role in a person's body and health. So you'll have a chance to go through all four seasons before you finally decide that it's not right for you. You will see why the Asian Diet has been called "the healthiest diet in the world."
So get started, and invest in your own health and body. Don't wait any longer for the results you want: Click the button below to go through our safe and secure checkout process, and download your copy today!