Hi There,
Would you like to…
Lose that excess weight that you've been carrying around?
Look and feel younger than your age?
Have clearer, younger-looking skin and a healthier glow?
Have lower stress levels and sleep better?
Have more energy, focus, and better concentration?
Not get sick as often?
Remove toxins from your body so you feel completely renewed?
Lower your risk of common illnesses like high cholesterol, diabetes, heart disease, and cancer?
If you want to experience all this, and more…
Then the Asian Diet is for you!
"Eating well is the key to a happy and healthy body and mind." – Chinese proverb
For centuries, Asian people have known that the secret to good health comes down to just three things: breakfast, lunch, and dinner. This may sound like a simple thing, but in today's world, very few people actually have the time and knowledge to eat right and eat well.
Each of us only has one body – and it deserves to get the very best treatment that you can give. Not taking care of your body and health could become a very costly mistake.
The good news is that eating right is easier than it sounds – And now, with my ebook, I will show you how you can do it in less than 30 minutes a day!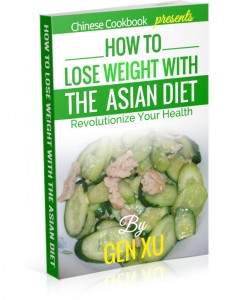 In this very special ebook, How To Lose Weight With The Asian Diet, I will show you the secrets to healthy eating that Asian people use to live longer and healthier lives.
There are lots of diets today that all claim themselves to be miraculous and wonderful. But what makes the Asian diet truly special is that it has a long history and tradition, and is already followed by over a billion people around the world.
Now, you can finally learn their secrets too – and do it while eating great-tasting food all the way through!
Here are some of the things that I'll show you inside this ebook:
I'll show you the secret to why the Asian Diet works so well, and how it will help you meet your weight loss goals
A personal challenge from me that will motivate you to achieve weight loss success
An insanely easy way to make your own Asian meals that will have you making and eating them almost immediately, even if you've never cooked anything before in your life
Tons of simple, healthy and delicious Asian diet recipes that will have you making them over and over again
A 14-day meal plan that you can modify to your own needs – With this, you'll see how you can turn one meal into three and save lots of time and energy!
A grocery shopping list – All of the ingredients I list in my recipes can easily be found at your local grocery store, supermarket or health food store.
Large, full-color photographs of all dishes made with my recipes
And much more!
Imagine…
Losing weight quickly and effortlessly – All while eating incredibly delicious food!
Looking and feeling younger, and living a longer, healthier life
Not having to see a doctor as often, because you're in much better health
Being able to fit into those clothes you always wanted to wear, and impressing all your friends and loved ones
Waking up every day with the energy and confidence to take on the world
Here's What My Readers Have Said…
"The Asian Diet is absolutely amazing. After I made the first recipe and tasted it, I was totally hooked. It was so delicious, and healthy too! In only a few short days I've lost weight, gotten clearer skin, and I have much more energy than before. I just wanted to say thank you for finally showing me a diet that works!"
-Jane H, New York City, NY
"It worked! I started seeing results in just a few days and couldn't believe how easy it was. I've already achieved my weight loss goal, but I'm going to stay on this diet just because it's so darn good. Thank you for writing this ebook!"
-Olivia S, Helena, Montana
"After trying the Asian Diet, I am convinced that it is the best diet on the planet. Motivation was always a big problem for me – I've tried many other diets but could never stay on them for long. But your recipes were so delicious that I couldn't stop making them. I've already seen great results, and losing weight is now fun for me!"
-Emma K, Toronto, Canada
Here are some common questions that I get:
Q: Are your recipes difficult to make?
A: Not at all! Most of my dishes take less than 20 minutes to prepare, so you can make them even if you have a busy life and schedule. You will have no problem making them on busy weekday nights.
Q: How much will it cost me to cook a typical Asian meal?
A: You can make a VERY good Asian meal for only $3-$5. This is MUCH less than what other diets can cost you, so in addition to losing weight you will also be able to save a lot of money at the same time.
Right now, How To Lose Weight With The Asian Diet is just $39.99 $29.95. This is a limited-time offer that is only available to visitors of my website. I feel confident that you will find the advice inside this ebook valuable, and you won't find this information anywhere else.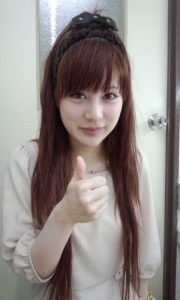 365-Day 100% Money Back Guarantee
As Asian people strongly believe that the seasons play an important role in a person's body and health, How To Lose Weight With The Asian Diet comes with a full-year money-back guarantee – So you'll have a chance to go through all four seasons with this wonderful ebook. You will see why the Asian Diet has been called "the healthiest diet in the world."
So get started, and invest in your own health and body. Don't wait any longer for the results you want: Click the button below to download How To Lose Weight With The Asian Diet – Healthy weight loss is just a stone's throw away!