What is the Asian Diet Plan?
The Asian Diet Plan is a traditional, healthy way of eating and living that is based on the diets of populations in Asian countries such as China, Japan, and South Korea. It is a low-carb, plant-based diet that has many health benefits such as weight loss, preventing illnesses, improving one's energy and much more. It is often called "the healthiest diet in the world."
Some of the health benefits that can be experienced by following the Asian diet include:
Fast, easy and effective weight loss
Looking and feeling younger than your actual age
Clearer, younger-looking skin and a healthier glow
Lower stress levels and better sleep
More energy, focus, and better concentration
Not getting sick as often
Removing toxins from your body so you feel completely renewed
Lower risk of common illnesses like high cholesterol, diabetes, heart disease, and cancer
Why should you follow the Asian Diet Plan?
The diet in the U.S. and many western countries is horribly flawed. Too much fat, sugar, and salt intake has led to epidemics such as obesity, diabetes, high cholesterol and heart disease to run rampant. Simply put, there is too much "bad stuff" and not enough "good stuff" in the western diet. In contrast, the Asian diet flips this in reverse, by giving you all of the "good stuff" and none of the "bad stuff."
How should you follow the Asian Diet Plan?
Healthy Broccoli Salad
Chinese Vegetables with Oyster Sauce
Beef with Oyster Sauce
Moo Goo Gai Pan
The Asian diet plan is flexible because it doesn't follow a rigid structure. There isn't anything like "eat this today, eat that tomorrow." Instead, you're free to choose from dozens of healthy and delicious Asian diet recipes. In my Asian Diet Plan (which you can download below) I give you a 14-day meal plan, but you're free to modify it to your own liking.
Download the Asian Diet Plan today!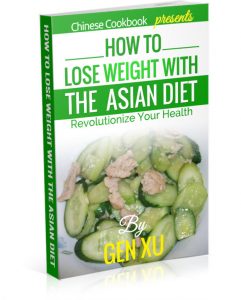 If you want to lose weight quickly and effectively, look and feel younger than your age, improve your health and much more, then the Asian Diet Plan is for you. Every day I still get thank-you letters from my fans telling me that they've finally achieved the results they've always wanted.
Here are some of the things that I'll show you inside this ebook:
I'll show you the secret to why the Asian Diet works so well, and how it will help you meet your weight loss goals
A personal challenge from me that will motivate you to achieve weight loss success
An insanely easy way to make your own Asian meals that will have you making and eating them almost immediately, even if you've never cooked anything before in your life
Tons of simple, healthy and delicious Asian diet recipes that will have you making them over and over again
A 14-day meal plan that you can modify to your own needs – With this, you'll see how you can turn one meal into three and save lots of time and energy!
A grocery shopping list – All of the ingredients I list in my recipes can easily be found at your local grocery store, supermarket or health food store.
Large, full-color photographs of all dishes made with my recipes
And much more!
Here's What My Fans Have Said…
"The Asian Diet is absolutely amazing. After I made the first recipe and tasted it, I was totally hooked. It was so delicious, and healthy too! In only a few short days I've lost weight, gotten clearer skin, and I have much more energy than before. I just wanted to say thank you for finally showing me a diet that works!"
-Jane H, New York City, NY
"It worked! I started seeing results in just a few days and couldn't believe how easy it was. I've already achieved my weight loss goal, but I'm going to stay on this diet just because it's so darn good. Thank you for writing this ebook!"
-Olivia S, Helena, Montana
"After trying the Asian Diet, I am convinced that it is the best diet on the planet. Motivation was always a big problem for me – I've tried many other diets but could never stay on them for long. But your recipes were so delicious that I couldn't stop making them. I've already seen great results, and losing weight is now fun for me!"
-Emma K, Toronto, Canada
Right now, How To Lose Weight With The Asian Diet is just $39.99 $29.95. This is a limited-time offer that is only available to visitors of my website. I feel confident that you will find the advice inside this ebook valuable, and you won't find this information anywhere else.
See why the Asian diet has been called "the #1 most healthy diet to lose weight in the world." Over 50,000 people have already done it – Click the link to get your copy today!