What is the Asian Diet Plan?
"Eating well is the key to a happy and healthy body and mind." – Chinese proverb
The Asian Diet Plan is a traditional, healthy way of eating and living that is based on the diets of populations in Asian countries like China, Japan, and South Korea. It is a low-fat, low-calorie plant-based diet that has many health benefits including weight loss, illness prevention, improving one's skin and physical appearance, improving mood and energy, and much more. The Asian diet is often called "the healthiest diet in the world."
Simplicity and balance are the key ideas in the Asian diet plan. Asian diet recipes are made with only fresh, natural and organic products, without using any artificial or processed "filler" ingredients. Recipes are made using simple and basic cooking methods such as boiling and stir-frying, with ingredients that balance and complement each other perfectly, in order to bring out their maximum flavor and health benefits.
The Asian diet is one of the most popular diets in the world. This is because it is the perfect example of what a healthy, balanced diet should be like. It includes plenty of fruits, vegetables, legumes and whole grains, along with a small amount of meat and eggs. Note that while eating meat and eggs as part of the diet is recommended, it is optional: Some people choose to follow a vegetarian or vegan version of the Asian diet plan.
Health Benefits of the Asian Diet Plan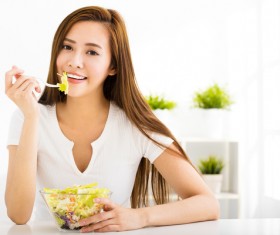 The Asian diet plan is the ideal diet because it provides all of the essential nutrients that the body needs. In addition, it is also rich in vitamins, minerals, fiber, and antioxidants while being low in saturated fat. One of the diet's main goals is to strengthen the body so that it can fight off any illness that might come along. Those who follow the Asian diet plan will soon notice a big improvement in their overall health.
Some of the health benefits that can be experienced by following the Asian diet plan include:
Fast, easy and effective weight loss
Looking and feeling younger than your actual age
Clearer, younger-looking skin and a healthier glow
Lower stress levels and better sleep
More energy, focus, and better concentration
Not getting sick as often
Removal of toxins from your body so you feel completely renewed
Lower risk of common illnesses like high cholesterol, diabetes, heart disease, and cancer
Typical foods in the Asian Diet Plan
The Asian diet plan is incredibly diverse and varied, and features hundreds of recipes that can be made. Asian people typically consume a wide variety of foods in their diet, but they are all natural, fresh and organic – artificial and processed foods are not a part of the diet.
Some typical foods that are seen in the Asian diet plan include:
Vegetables:
Vegetables include dark, leafy green vegetables like broccoli, cabbage, celery, lettuce, spinach, kale and bok choy, as well as other vegetables like carrots, cauliflower, eggplant, turnips, radishes and green peppers. Also included are vegetables commonly found in Asian supermarkets, such as bamboo, celtuce, lotus root, winter melon and Chinese yam.
Fruits:
Nearly every kind of fruit is eaten in the Asian diet, from apples, oranges, bananas, grapes and pears to mangoes, watermelon, strawberries and pineapple.
Grains:
Grains eaten as part of the Asian diet plan are incredibly diverse as well. Rice is the main staple grain, but there is a wide variety of rice to choose from, such as long grain, short grain, jasmine rice, white rice, brown rice, millet, and even red rice, black rice and purple rice! Each type has their own nutritional value, so it is recommended to eat several types. Wheat is also consumed, usually in the form of noodles, bread and steamed buns.
Meat:
Meat plays a supporting role in the Asian diet plan. However, that does not mean there is a lack of variety to choose from. Asians usually prefer lean meat such as chicken, duck, fish and pork. Beef is eaten more rarely. Vegetarians usually eat eggs instead of meat, and vegans usually eat tofu.
Asian Diet vs. Western Diet
The diet in the U.S. and many western countries is in general very unhealthy. The Western diet contains too much fat, sugar and salt, and not enough vegetables and whole grains, which has led to the spread of epidemics such as obesity, diabetes, high cholesterol and heart disease. In contrast, the Asian diet consists of lots of vegetables and whole grains, while being low in fat, sugar and salt, making it a much healthier choice overall.
If you've ever visited an Asian country, you might have noticed that the people there are rarely overweight. They are also generally in much better health and tend to live longer lives. The main reason for this is because of their healthy diet.
The Asian Diet: Why it works
A common question that I get asked is: Why does the Asian Diet work so well? What makes it more effective than all the other diets? There are actually several reasons for this. Most of the time it isn't just a matter of what you are eating, but also a matter of how you eat. Let's take a look at what makes the Asian Diet work so well:
1. Fresh, organic and natural. As stated earlier the Asian diet plan uses only the freshest, organic and natural ingredients in its recipes. Artificial and processed ingredients are never used, and even frozen ingredients are rarely used. Remember: Never use frozen if you can get it fresh!
2. Low in calories, big on taste. Since most Asian dishes consist mainly of vegetables, they naturally contain very few calories. For these types of dishes, you can generally eat a lot and not have to worry about counting calories. Asian dishes are also big on taste: Most people fall in love with Asian food from the first moment they try it, so you really get the best of both worlds here – Lose weight by eating nothing but incredibly yummy food!
3. Manage portions easily. Asian people generally eat using small bowls and plates. This is actually important when it comes to losing weight, because it lets you manage portions easily. Eat what's in your bowl, stop when you're full, and you won't have to worry about overeating. Managing your portions means managing your weight!
4. Digestion and metabolism are key. Good digestion is the key to easy and effective weight loss, because it keeps your metabolism high. Asian people know this, which is why they generally always eat hot food, and avoid cold foods and drinks with their meals. Asian vegetable dishes contain plenty of fiber (which helps digestion). Eating too much meat will slow down the metabolism as well, which is why Asian people generally eat meat in moderate portions.
Sample Asian Diet Meal Plan
An example of a typical Asian diet meal plan for a day might look something like this:
Breakfast:
Rice congee with pickled cucumbers (or a light vegetable stir fry), steamed whole wheat buns with your choice of filling (cabbage, carrots, pork, sesame, etc.), 1 boiled or scrambled egg
Rice congee has been a healthy and delicious Asian breakfast food since ancient times, and it's what most Asians start their day with. It's usually eaten along with pickled vegetables, or a light vegetable stir-fry. Rice congee is incredibly simple to make, and one pot of congee can be stored for 3-4 days, so you'll only need to make it twice a week.
Ingredients:
– 3-4 cups white rice
– 9 cups water
Directions:
In a large pot, bring the water and rice to a boil. Reduce heat to medium low, and place the lid on the pot slightly tilted (to let steam escape). Stir occasionally, and cook until the porridge has a rich, creamy texture (about 45-50 minutes).
Lunch: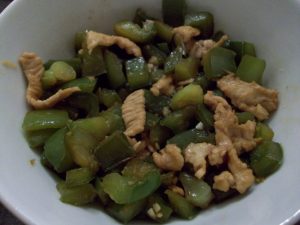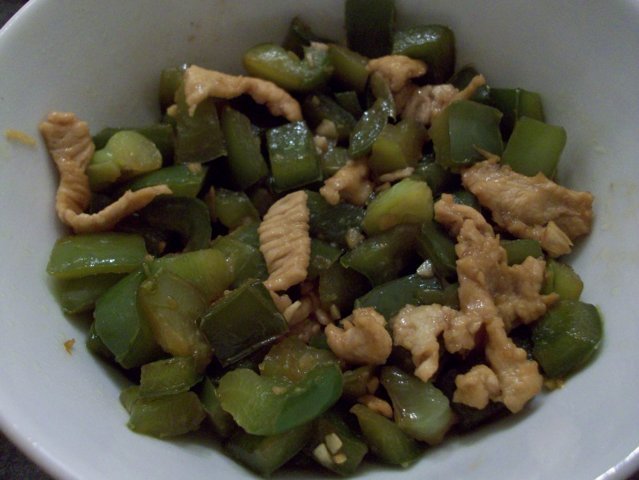 Chicken green pepper stir-fry seasoned with soy sauce over rice, cup of hot tea, 1 piece fresh fruit
This healthy and delicious chicken green pepper stir fry is great to have on any day of the week, and served with rice, is a classic recipe that never gets old! A cup of hot tea and some fresh fruit completes the meal and greatly improves your digestion and after-meal experience.
Making this dish is very simple:
Ingredients:
4 ounces chicken breast meat, sliced
1 green pepper, cut into bite-size pieces
1 tablespoon rice wine
2 tablespoons soy sauce
2 tablespoons cooking oil
Salt to taste
Preparation:
Marinate the chicken in the wine and soy sauce for 15 minutes. In a wok or frying pan, add 1 tablespoon oil and heat it up until it smokes slightly. Add the chicken and stir-fry until it is no longer pink (about 30 seconds). Dish out and heat the wok up again with 1 tablespoon oil. Add the green pepper and stir-fry until it becomes slightly soft (about a minute). Add back the chicken and stir-fry for another minute or two (until everything is fully cooked), and add another tablespoon soy sauce. Add salt to taste, and serve.
Dinner: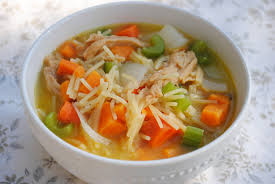 Hot noodle soup made with chicken, tomato, cabbage or vegetables of your choice, 1-2 pieces bread or steamed whole wheat buns, 1 piece fresh fruit of your choice
Hot noodle soup is another classic Asian diet recipe, and is a great dinner recipe. It can be made using your choice of vegetables, including tomato, cabbage, Chinese cabbage, celery, mushrooms, green peppers and more! There are many combinations you can make here, so find your favorite!
Ingredients:
– Noodles
– Chicken or pork, cut into slices or diced (optional)
– Vegetables of your choice, cut into bite-size pieces
– Salt and pepper to taste
Directions:
Bring a pot of water to a boil, then add the vegetables, meat, and noodles. Stir occasionally, and wait until everything becomes fully
cooked, add salt and/or pepper to taste, and serve.
Keep in mind that these are just some example meal plans out of many. There are hundreds of delicious and healthy Asian diet recipes, so the possible combinations you can make are virtually endless!
Get started with the Asian Diet Plan today!
Healthy Asian Broccoli Salad
Beef with Scallions
Moo Goo Gai Pan
Chinese Vegetables with Oyster Sauce
Are you ready to lose weight fast and easily? Look and feel younger than your age? Get younger, healthier-looking skin? Improve your mood and energy, and much more? Then the Asian Diet Plan is for you! I created the Asian Diet Plan in order to help you achieve these results as quickly and easily as possible.
When I first created my Asian Diet Plan, I wanted to make it accessible to everyone. I wanted meals that were easy to prepare, using ingredients that you can buy in any grocery store or supermarket. I can say I've definitely succeeded, because every day I still get thank-you letters from people who've successfully lost weight or improved their health with my plan.
My Asian Diet Plan is very flexible because it doesn't follow a rigid structure like other diet plans. Instead of telling you to "eat this today, eat that tomorrow," I provide you with dozens of healthy and delicious Asian diet recipes for you to choose from. Included in my Asian Diet Plan (which you can download below) is a 14-day sample meal plan, and you are free to modify it to your own liking.
What's included in the Asian Diet Plan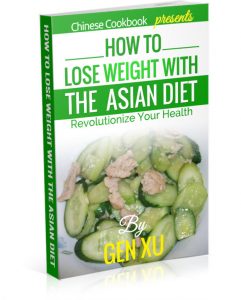 The Asian Diet Plan includes a total of 4 items (in PDF file format), all designed to help you lose weight. The first is my original ebook that started it all, How to Lose Weight with the Asian Diet. Here are some of the things that I'll show you inside this ebook:
I'll show you the secret to why the Asian Diet works so well, and how it will help you meet your weight loss goals
A personal challenge from me that will motivate you to achieve weight loss success
How you can successfully lose weight and improve your health by making meals only once a day
An insanely easy way to make your own Asian meals that will have you making and eating them almost immediately, even if you've never cooked anything before in your life!
Dozens of simple, healthy and delicious Asian diet recipes that will have you making them over and over again
Large, full-color photographs of all dishes made with my recipes
And much more!
The Asian Diet Plan Extra Recipes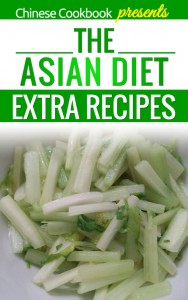 In addition to my original ebook, you'll also receive this special edition called The Asian Diet Plan Extra Recipes. Requested by popular demand from my fans, this addition to my ebook contains what I like to call "staple" recipes: classic, tried-and-true Asian diet recipes that you can make and eat on a regular basis, because they're easy, healthy and delicious.
This is a great addition to my original ebook, and is included in the package!
The Asian Diet 14-Day Meal Plan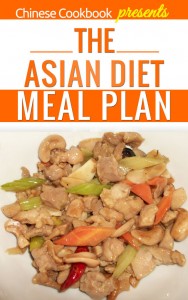 The Asian Diet 14-Day Meal Plan is one of my most popular items. The meal plan I give you is extremely flexible: You can follow it exactly as it's written, OR you can modify it to your own liking! One really neat thing about this meal plan is that you can see how you can turn one meal into THREE – by cooking only once a day! You'll definitely save a lot of time and energy with this one!
The Asian Diet Grocery Shopping List
Another item that you simply can't do without – The Asian Diet Grocery Shopping List is here to help! All of the ingredients I list in my recipes can easily be found at your local grocery store, supermarket or health food store, and this shopping list makes it easy to get what you need, without repeated trips to the store. Another great bonus that you just can't do without!
People Who Tried the Asian Diet Plan Said…
"The Asian Diet Plan is absolutely amazing. After I made the first recipe and tasted it, I was totally hooked. It was so delicious, and healthy too! In only a few short days I've lost weight, gotten clearer skin, and I have much more energy than before. I just wanted to say thank you for finally showing me a diet that works!"
-Jane H, New York City, NY
"It worked! I started seeing results in just a few days and couldn't believe how easy it was. I've already achieved my weight loss goal, but I'm going to stay on this diet just because it's so amazing. Thank you for writing this ebook!"
-Olivia S, Helena, Montana
"After trying the Asian Diet Plan, I am convinced that it is the best diet on the planet. Motivation was always a big problem for me – I've tried many other diets but could never stay on them for long. But your recipes were so delicious that I couldn't stop making them. I've already seen great results, and losing weight is now fun for me!"
-Emma K, Toronto, Canada
Download the Asian Diet Plan today!
To recap, you'll receive all of the following as part of the Asian Diet Plan:




Right now, The Asian Diet Plan is just $39.99 $29.95. This is a limited-time offer that is only available to visitors of my website, and cannot be found anywhere else. I feel confident that you will find the advice inside this ebook valuable, like so many others have already.
Once you've tried it, you will see why the Asian diet plan has been called "the healthiest diet in the world." Over 50,000 people have already downloaded the Asian Diet Plan – Click the button below to get your copy today!