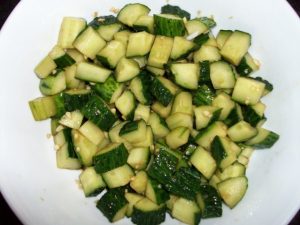 This Asian cucumber salad recipe is one of my favorites. Not only is it incredibly easy and takes only 5 minutes to prepare, it's also a very versatile dish: You can serve it as an appetizer, side dish, or even as a main dish! This Asian cucumber salad recipe is low-carb and is a very effective weight loss dish that you can eat often.
When making this dish, it's important to strike a balance between the amount of vinegar and soy sauce that you use. I find that using equal amounts of vinegar and soy sauce tends to work best, and gives the dish a balanced mix of flavors. Try it yourself and see what works for you!
Using garlic in this dish is optional, but I strongly recommend it to give the dish a better flavor (garlic is an effective weight loss food in its own right and has many other health benefits too).
Asian Cucumber Salad Recipe
Ingredients:
1 cucumber, diced
1 tablespoon brown rice vinegar
1 tablespoon soy sauce
1 clove garlic, minced (optional)
Salt to taste
Preparation:
In a bowl, simply mix the cucumber, vinegar, garlic and soy sauce together and toss well. Add salt to taste, and serve.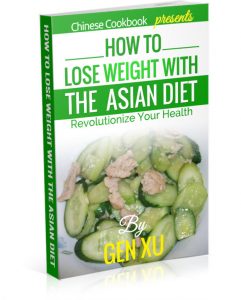 Want to get more delicious low-carb Asian recipes to help you lose weight, look and feel younger, improve your health and much more? You can find them by downloading my ebook, How to Lose Weight with the Asian Diet. Over 50,000 people have done it!
Spread the love!
Get More Recipes Like Asian Low-Carb Cucumber Salad Recipe: