There is something terribly wrong with our modern-day diet. Look around and you will find that America is the most obese (and one of the least healthy) nations in the world. This is made worse by all the "fad" diets and weight loss programs today, most of which don't actually help you lose weight at all (and some can even severely harm your health).
In other countries, this is not the case. Asian countries like China, Korea, and Japan have some of the fittest, healthiest, and longest-living populations in the world. The main reason for this is because of the Asian Diet, which is widely regarded as "the healthiest diet in the world." The Asian Diet is followed by over 2 billion people around the world, making it the most popular diet in the world. Followers of the Asian Diet can experience a variety of health benefits including:
Easy and effective weight loss

Looking and feeling younger
Clearer, younger-looking skin and a healthy glow

Lower risk of diabetes, heart disease, stroke, and cancer

Lower blood pressure, blood glucose, and cholesterol levels

More balanced emotions and lower stress levels

Better sleep

Improved energy, focus, concentration, mental acuity, and clarity of thinking

Improved metabolism, circulation, and digestion

Not getting sick as often

Removal of toxins from the body

Joint and muscle pain relief

Improved strength and flexibility
Use the following links to help you get started:
What Is The Asian Diet? What makes it so effective for losing weight and staying healthy, compared to every other diet in the world? Find out here.
The Asian Diet: The World's Healthiest Diet Find out why no other diet can compare in terms of the sheer number of health benefits provided by the Asian Diet.
Common Diet Misconceptions Have you been fooled? Learn about common diet misconceptions "they" don't want you to know!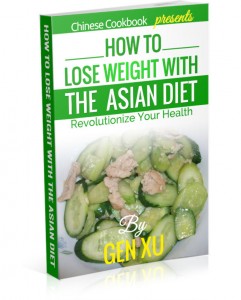 Experience the amazing weight loss and health benefits of the Asian Diet for yourself with our flagship ebook, How To Lose Weight With The Asian Diet. It's jam-packed with simple and delicious recipes that anyone can make, to help you lose weight and take your health to the next level.